ariestess
asked me about my notation style when I'm writing to catch up. And boy did I just finish a HUGE catch-up!
I wrote a bit about my process and my thoughts about getting behind on one's journal, and I thought I'd paste that here and expand upon it a little bit. It's also a bit of a confession, since I really don't talk about how behind I got recently.
An example of the notation for the back of my volumes: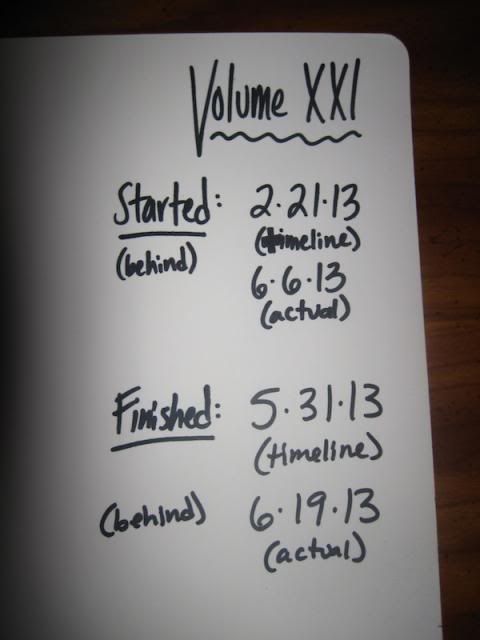 Oh. my. goodness. I got SO FAR BEHIND in the last
year-and-a-freakin'-half
. I can't believe I'm writing in real time again now! Thank God for unemployment, eh? LOL ;-)
Well, okay, back in the fall of 2011, I was starting to get behind and not write everyday. So it just built up and up and up. But here's how I manage to get behind and also still stay kinda up-to-date: I take a zillion photos of every event I'm a part of it, and have random snapshots taken even on 'blah' days in my life (my dog, my nails, etc.). I also keep copious notes of what happens everyday on an app (AwesomeNote) on my iPhone. I also have a little book that has
saved
me in terms of knowing what happened which day: the 5-Year Line-A-Day Diary. It's a book that has pages for each day of the year, and you write a couple sentences about your day. I did this every single day, even if I didn't keep up with my journal (which I didn't). This totally saved me for keeping up and being able to write about my life in hindsight. I knew what I did and what happened every single day. I originally bought the book as a novelty kind of thing, and as a way to see how life ebb and flowed over 5 years' time in the same book, but it has become an invaluable resource for when I get behind. So I have lists of funny quotes, things that happened, thoughts, etc. I keep an accordion binder of paste-ins, photos and mementos, meticulously organized, for pasting in. I also have what I call a mildly-photographic memory, so that helps.
To see the book I just spoke about, click
here
. You could also probably make your own or use index cards, etc. I've seen similar DIY projects on Pinterest.
So, eventually, I was not writing in my journal and was months behind on it. Ugh, I know. I feel such shame over this, especially for someone who is so adamant about capturing my life to leave for the next generation and have as a great reference. I implore you not to feel as shameful as I have. lol
So when I finally did pick the pen back up, I was still writing about months ago. Meanwhile, of course, time still passed. I never caught up.
Well, I was determined to catch up. So I worked hard for hours a day lately to write about 2012 and the first half of 2013 and get caught up so I could write in real time, since it is decisively better. It's so much more genuine! I am so glad I've caught up! I don't ever want to get behind like that again!
So about the notation style
I use to make note of the fact that I am writing these journals in "the future"...
I feel it's important to note that I did alllll that writing and journaling from well beyond the point in which the events happened. I even made mention of it a few times within the text itself. For the most part, I wrote as if I was writing in the present, and not the future. But I did occasionally through it in that was still catching up, what the real date was, etc. This is totally up to you. If you don't want to make note of the fact that you're behind, don't. I do, so I use a notation in the back of my journal to kind of "keep track." (If I am behind within a journal, I don't note it. That is, if I'm only a week or two behind and it's all going to be kosher within the volume, it's not worth noting. My general rule is about starting and finishing. If the start and finish dates are not genuine in relation to actual real life time, I note it.)
The notations (above photo) in the journals are simple. I wanted to acknowledge that I was writing 'from the future,' so I put the "actual dates" as the ones that I physically start and stop writing in the journals. I can see how far behind I am just by comparing that to the timeline date. The "timeline-wise" notation means that's what the journal contains in terms of recording my life. So for this one, I physically started the book, in real time, on June 6, 2013 and ended it on June 19, 2013 - only 13 days of writing to fill it. But the journal itself covers the time period between February 21, 2013 and May 31, 2013 - a little over three months. It's like writing a history book - say it was published in 2013, but it covers the years 1860 to 1865. The copyright is "actual" and the era is "timeline-wise."
A few people I've mentioned this to (it's not been many overall, since this is actually a huuuuge shame for me and I don't talk about it, especially in real life, where I am known for my meticulous journaling) have wondered why I didn't just give up and start where I was. I just... can't. I can't do it. I'm too OCD about journaling, I guess. LOL A little less than genuine in-the-moment writing is better than nothing! So I encourage you to KEEP GOING! But, ultimately, do whatever it takes to ensure you keep journaling. If I had stopped catching up/caring about catching up, I would have stopped journaling, ya know? So you do what you gotta.
My best advice is just... ya gotta have discipline - some sort of discipline in some way. I was disciplined in making sure I didn't lose moments and photos and paste-ins by writing them down and organizing them, but I was not disciplined with actually writing. I let a year and a half of my writing be less than genuine (since hindsight really kinda kills that a little bit) and I won't waste that time again! I am determined not to get more than a week behind from now on!
I know that was long-winded, but I thought I'd throw it out there, in case it helps or inspires anyone else!
Feel free to comment and ask anything you want; I hope I was clear in my explanations of what I do!
Don't feel guilty about being behind on your journaling - just get back on the horse!!!
So, in the comments on my last 'completed journal' entry,