This one was rather eventful, covering four major holidays (Halloween, Thanksgiving, Christmas, New Year's) and ending at the beginning of my "birthday season," which is ongoing now, and, unfortunately, a major, shocking family death.
There were definitely high highs and low lows in this one, and I am glad it is full, as I am glad to see all my journals full! Lots of photos under the cut (including a peek at what my index of journals looks like) and on to the next!
1. Finished!
2. The thickness. This started out normal notebook thickness!
3. The journal started out at King Spa, a Korean spa in Chicagoland! Ashleigh (
smashleighfig
) and I went at the end of October!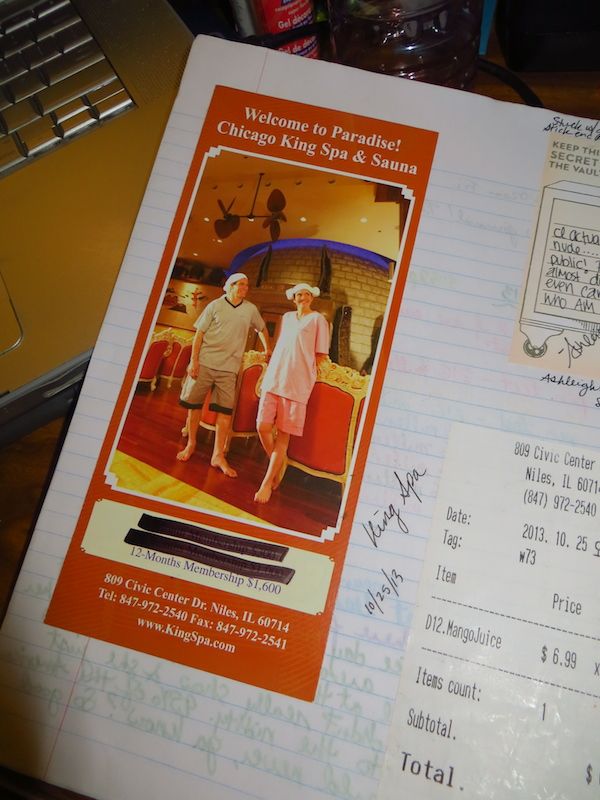 4. My only Halloween card this year - so cute! Auntie brought me the card and a spider plant with a spider pick in it.
5. Out-of-state friends sent me a surprise pair of Hogwarts crest earrings.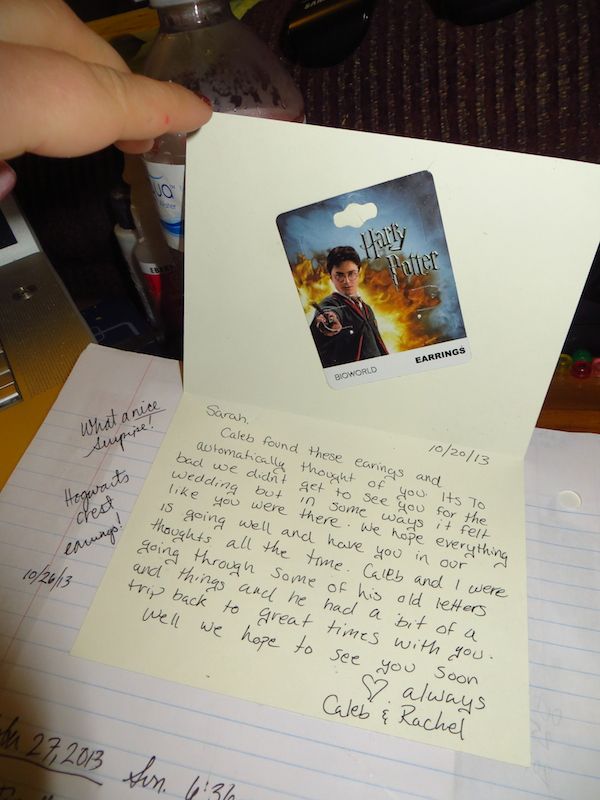 6. Halloween street fair (Nightmare on Chicago Street in Elgin, IL), Halloween 2014 costume plans and a Thanksgiving necklace I made.
7. From the street fair night
8. Our tree is still here! So it looks like they won't take it down till spring after all.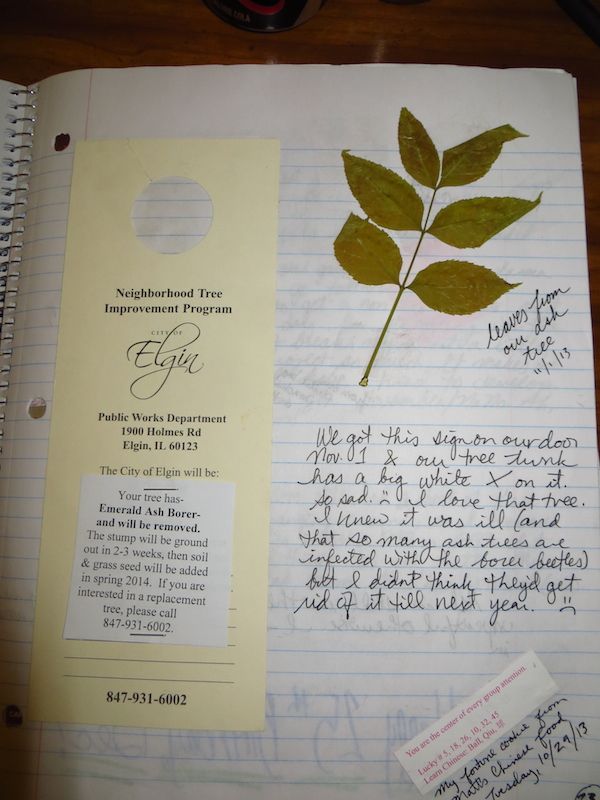 9. Fortune cookie!
10. A catalog clipping and fantasy. :-)
11. YAY!
12. A fun night out with friends!
13. This really spoke to me. It's pretty much my philosophy!
14. First date with a gal.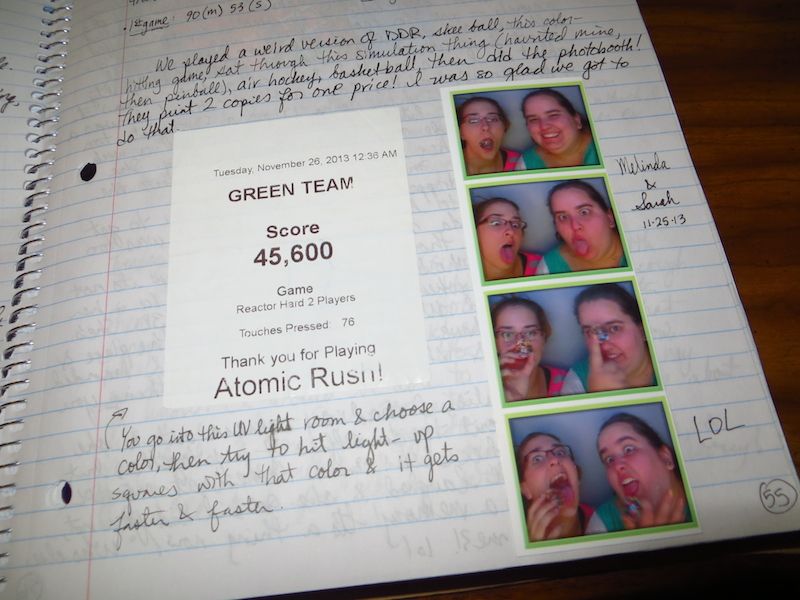 15. Baking and flour-covered puppy cuteness!
16. Thanksgiving photos! The woman in red has since died, so going through this journal for photos and seeing this photo kind of jarred me. :-( More on that at the end of the volume.
17. More Thanksgiving photos
18. I got someone else's prints in my envelope!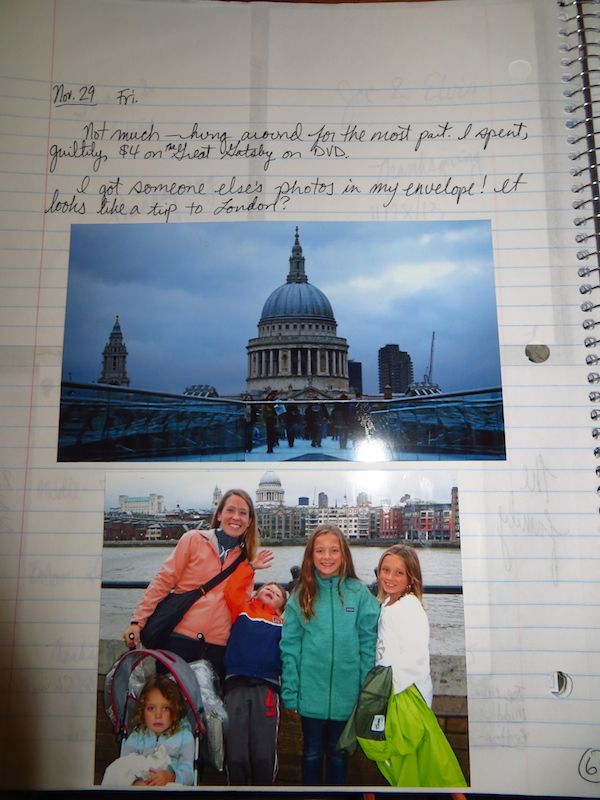 19. NaNoWriMo fail. LOL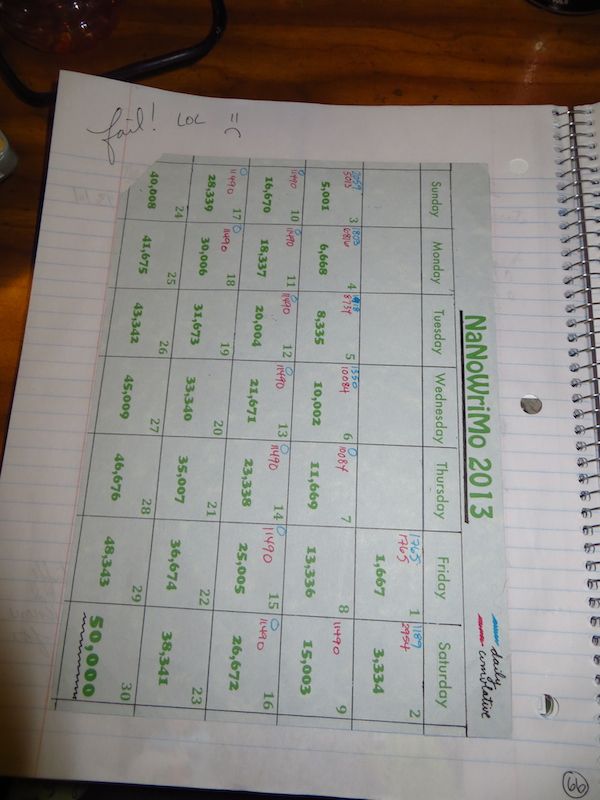 20. One of my BFFs Danielle ordered me a pizza, cookie and soda!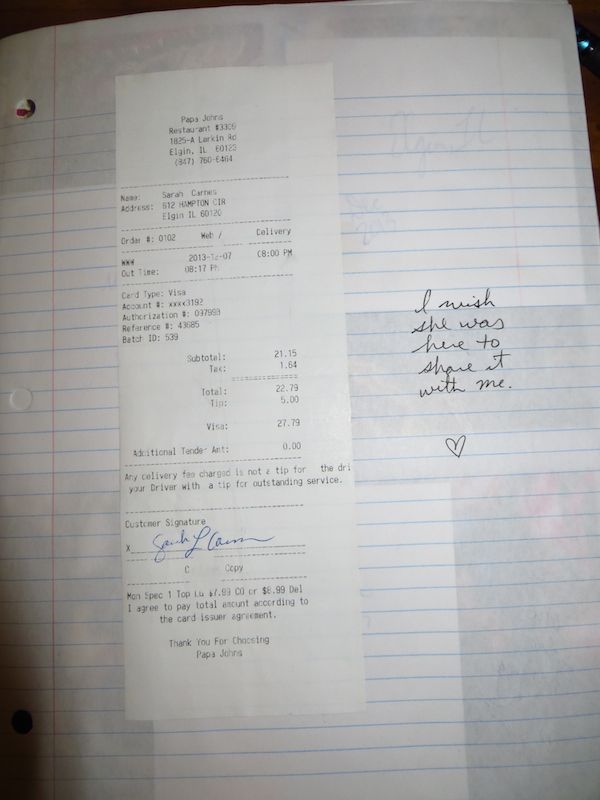 21. Photos I took of my Elvis!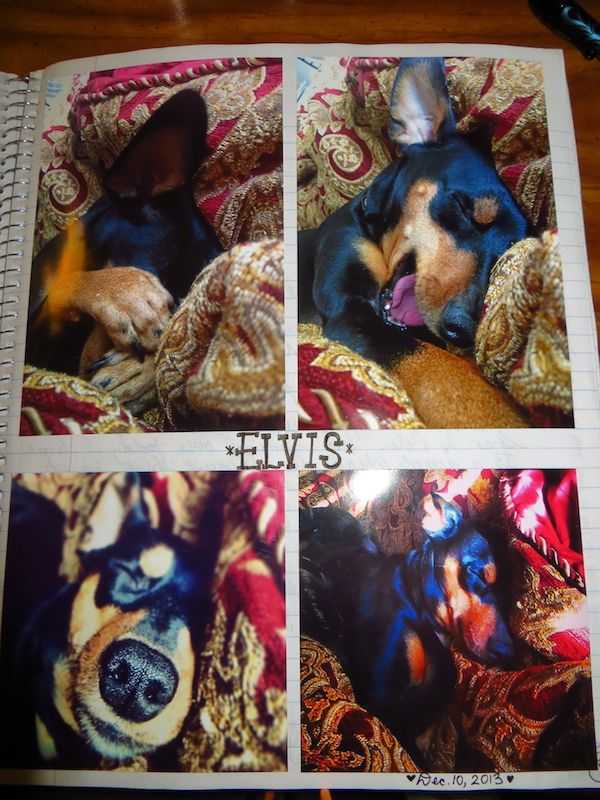 22. In almost every volume, I paste scratch 'n' sniff clippings from the Yankee Candle Co.'s catalog. Christmas ones!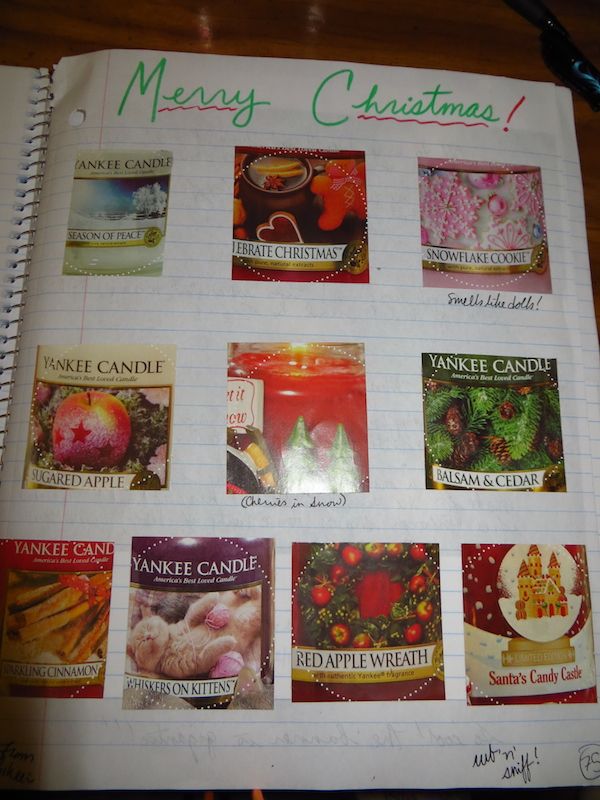 23. This year's Secret Santa paper.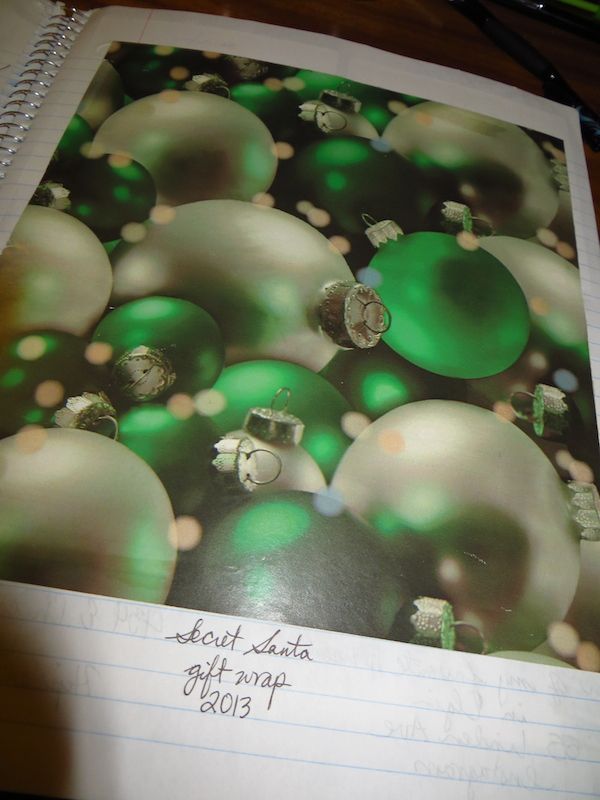 24. Things from my gifts from my BFFs Leigh and Bec.
25. I photographed our Christmas decor!
26.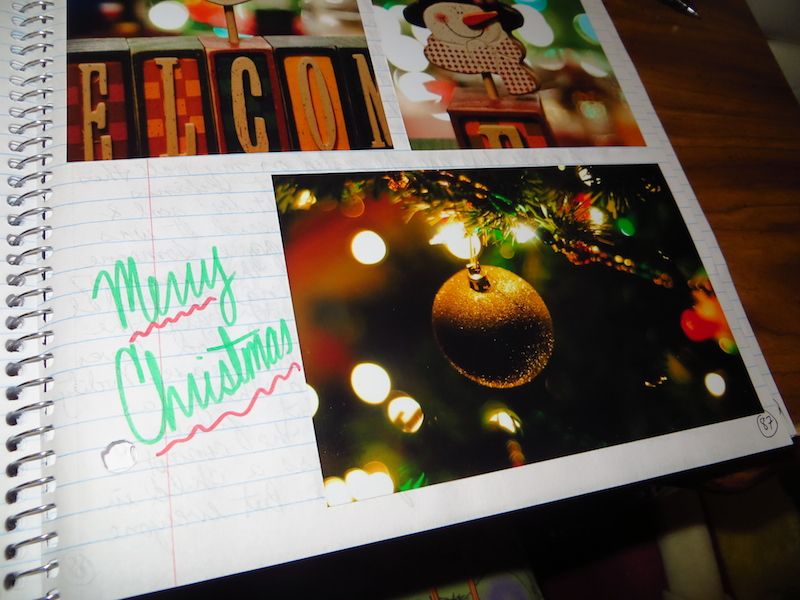 27. Typical text pages
28. A Christmas appetizer I made!
29. Christmas family picture
30. Christmas dinner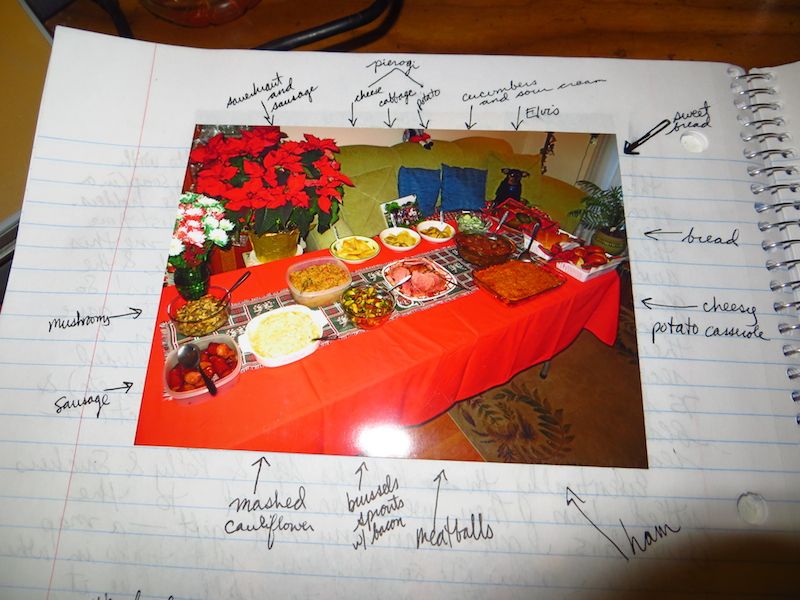 31. Every year, we draw the 12 Days of Christmas out of a hat and sing it.
32. The dances we danced as part of an annual Christmas game
33. I got a Nancy Grace handcuff necklace for Christmas!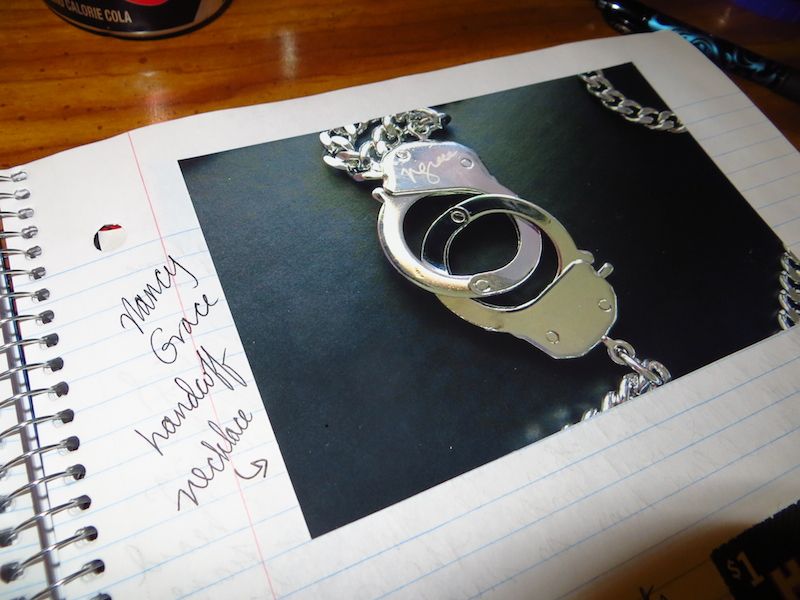 34. Beautiful wrapping paper from Ashleigh
35. I wrote out important/favorite days from 2013
36. Another quotation/platitude that spoke to me.
37. The huge, horrible death in the family.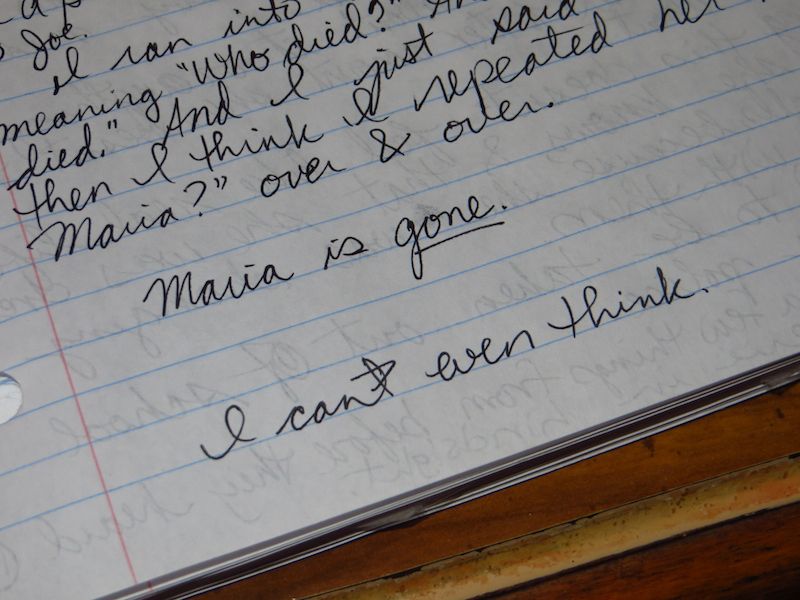 38. The entry about the funeral, which I typed and printed.
39. From the funeral
40. To cheer me up, and to celebrate my birthday, my BFFs Leigh and Rebecca threw me a party! This is stuff from it. It was a joint party with Ashleigh; our birthdays are two days apart and this year both of us have golden birthdays! She's 25 on the 25th and I'm 27 on the 27th. It was Golden Girls themed!
41. Ashleigh glued wrapping paper to the box of the gift she gave me. LOL The note she wrote on it was hilarious.
42. Such a perfect card for me!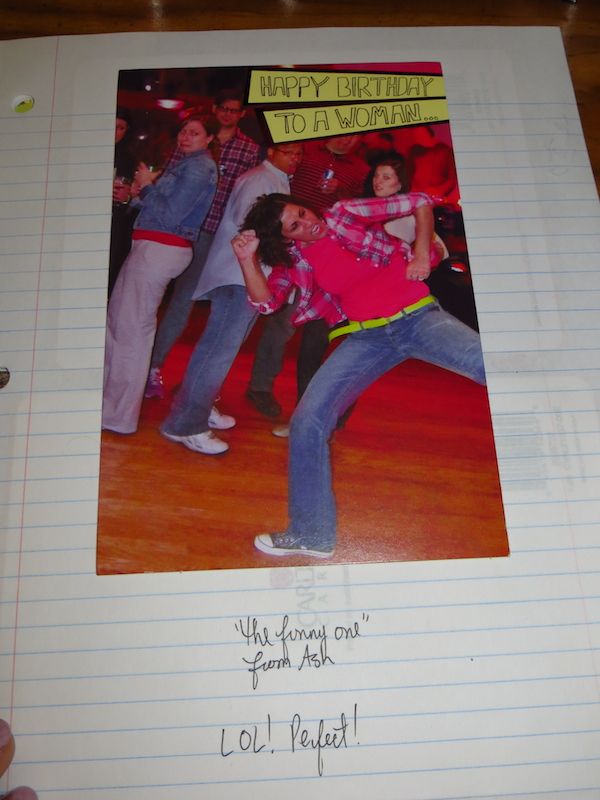 43.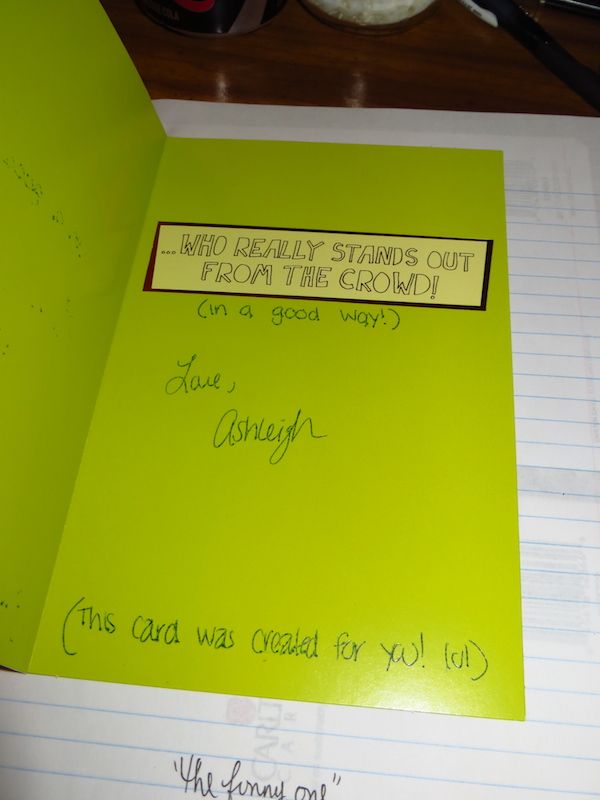 44. More cards!
45. A nice sympathy card from Ashleigh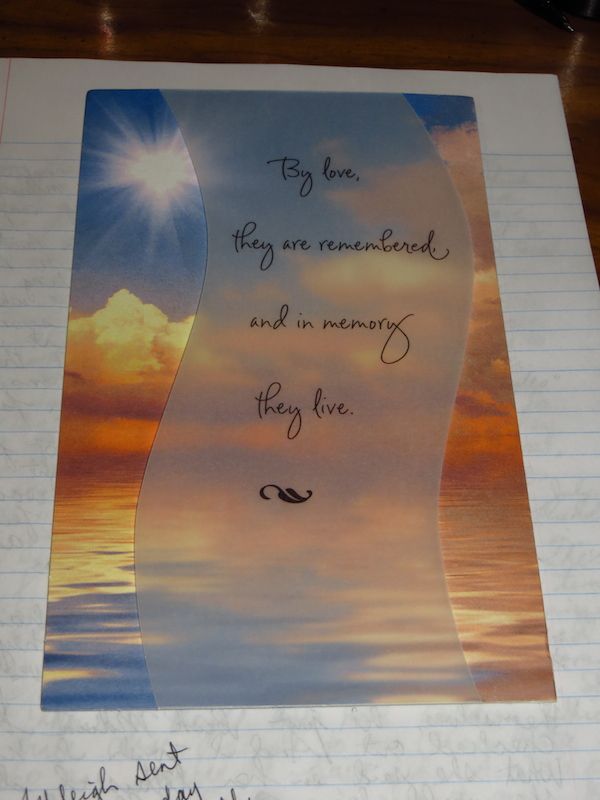 46. I finished up the journal with some miscellany.
47. I covered my family member's full name for privacy, but I mentioned her on this page.
48. Disney misc.
49. Thomas Kinkade page-a-day calendar pages
50. I wrote out the star signs of everyone I know. Just for fun.
51. The notation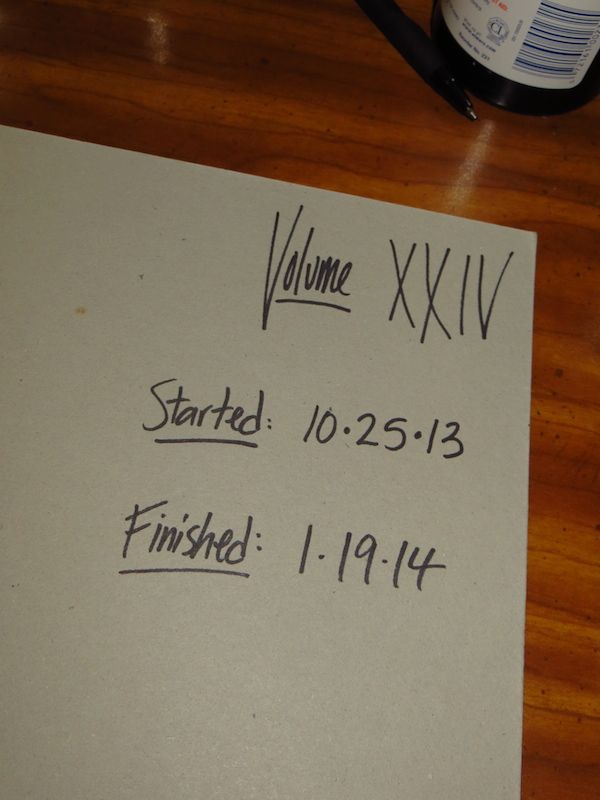 52. The new journal. It's Piccadilly, large.
53. It kind of matches my schmancy Pilot G2!
54. The new notation
55. My "new journal survey."
56. A sample of how I format my digital journal index, should anyone want to use my table format. :-)
To see the rest of my journals:
http://sarahrose.livejournal.com/1691052.html
Another volume in the hole!